The German Health insurance company BKK Provitahas has revealed the massive number of deaths from the COVID-19 vaccines that have been hidden from the public. The company reveals that from its own data collected directly from doctors, the fatalities in Germany caused by the COVID-19 vaccines are almost 14 times greater than reported by the German government. The health insurance numbers are coming directly from doctors seeking payment for medical care. They are using specific codes that reflect deaths from COVID-19 vaccines. The data sample involves 10.9 million insured persons, which means that the extrapolation to the 83 million people who live in Germany is entirely accurate. Below is a graph showing the actual number of COVID-19 deaths in Germany (31,254) extrapolated from the insurance data compared to the government-reported deaths (2,255) in the German vaccine adverse event reporting system.
The insurance data is inherently more reliable than the German VAERS data because the onerous burden of reporting to VAERS creates the reality of underreporting of COVID-19 adverse events. But when it comes to billing, doctors are more likely to accurately report the proper diagnosis and codes. After vaccination, people with health problems will see a doctor and explain their complaints. The doctor will examine the patient and come to a diagnosis and bill the patient for the appointment. The ICD10 billing code will reflect the diagnosis. There are specific ICD10 billing codes for side effects from COVID-19 vaccinations. If the doctor determines that the COVID-19 vaccine caused the sickness, he will enter the appropriate ICD10 code for that diagnosis. The ICD10 data collected by the insurance company is unimpeachable. The aggregate of those billing codes collected by the insurance company reflects that the COVID-19 vaccines are deadly, and the German government is underreporting the fatal effect of those vaccines.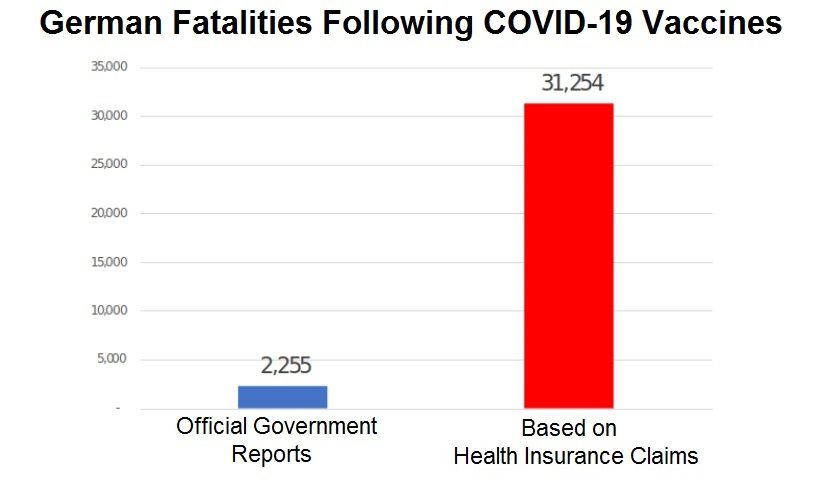 The following is excerpted from a February 23, 2020, article by Brian Shilhavy, Editor, Health Impact News
The entire COVID-19 vaccine narrative continues to come apart at the seams as yet another media report was published today in Germany stating that a large German health insurance company analyzed data from 10.9 million insured individuals regarding injuries and fatalities following COVID-19 vaccines during the first half of 2021 and into the 3rd quarter which showed significantly higher numbers than what the German government has reported.
---
---